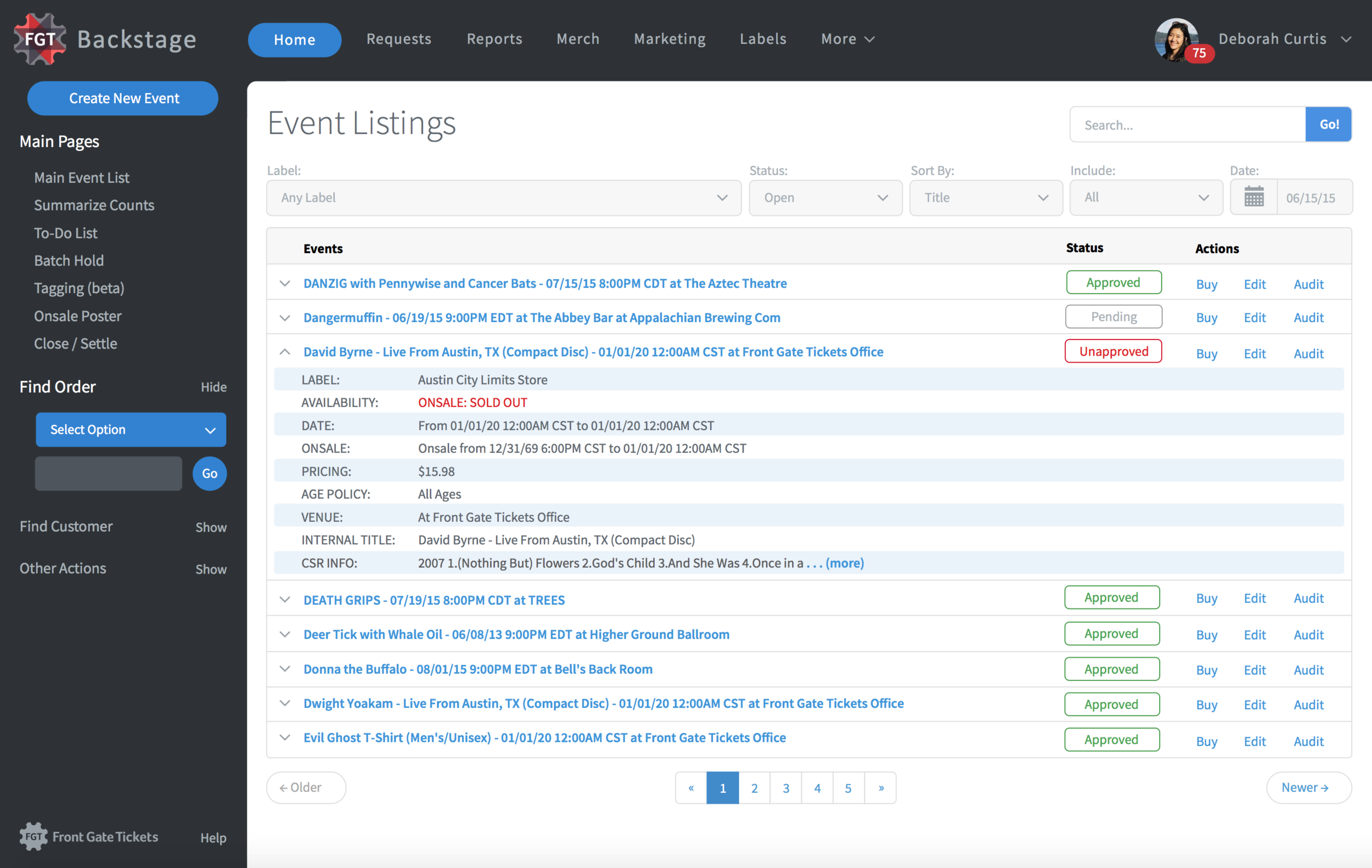 #FGTGSD
Some of the latest and greatest from my time at Front Gate Tickets. More later...
UX / UI Process Work
This is a collection of various UX Design work. Break point sheets, user flows, wireframes, spec sheets, etc.
Client: Misc
Skills: UX Design, UI Design
Design & Illustration
Sometimes you just get lazy and need a place to dump cool stuff that doesn't fit anywhere else.
Client: Misc
Skills: Illustration, UI design, Logo Design, Interior Signage
Good Health
This was a fantastic project for a really exciting healthcare platform under development. It's also a good example of how a few mockups can really sell an idea. Based off the strength of these mockups, this project is moving into production.
Client: Seton Austin
Skills: Mobile App UX, Branding, Web Mockups
Tagaboom App
This project has flexed every skill I've learned in my Visual Design experience. As the lead UX and Visual Designer I've created everything from the logo, to wire frames, and much more. The inherently collaborative approach has allowed me to not just design, but innovate.
Our team at Tagaboom is pushing the limits of photo annotation and social sharing, and we are creating completely novel forms of communication. Our proudest effort is LiveGIF. An embeddable GIF that updates automatically as you annotate it with your friends on web and mobile. Imagine viewing a gif that is constantly evolving. It's radical!
Presented here is only the very, very tip of an iceberg of work that led up to this. Check it out in the app store!
Client: Tagaboom Inc.
Skills: App Director, Mobile UX, iOS, Android, Branding, Visual Design, Web Mockups, Presentation Graphics, Photography
Sky Spring Rainwater
I had the opportunity to apply my experience from designing websites as well as working in a print shop on this project. Working at SixDI, we started by designing the logo, identity system, and product packaging, before moving on to the environmental graphics placed in their warehouse and bottling facility. We did all the printing in house for this one and the results were fantastic. As the final step, I designed a website that helped Sky Spring land some big partnerships.
Client: Sky Spring Rainwater
Skills: Branding, Product Packaging, Illustration, Web Mockups, Photo Editing, Environmental Graphics, Collateral
Crucial Four
This has been a really fun project for a startup. Crucial Four sells all natural nutritional supplements and drink mixes. I was brought on to redesign the brand, put together an identity system, and design their web destination and shopping portal.
Client: Crucial Four, Inc.
Link: View Website
Skills: Branding, Product Packaging, Web Mockups, Wordpress, Product Photography, Photo Manipulation, Collateral